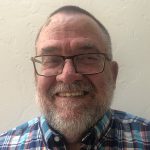 Byron Wright
Byron worked for Kenosha Human Development Services, a community social service agency, for 35 years. For 17 years he was the agency's executive director. When he retired in 2017 the agency provided 26 different programs for youth and adults, had a budget of 9.1 million dollars and employed 192 people. From 1985-2000, he supervised the agency's transitional living programs. During that period, he developed a scattered site housing program for 17 year olds, three transitional housing programs that targeted teen parents, youth and persons with severe and persistent mental illness, who were also experiencing homelessness, a 14-bed halfway house for adult correctional clients and two group homes for youth and young adults.
While he was division director, he was responsible for all grant writing; initial program design; training and evaluating staff; and referrals, treatment planning and case reviews for program participants.
Hallmarks of all programs in the agency include the ability to accept program participants with difficult behavioral issues and a philosophy of treating all participants with unconditional positive regard while teaching them skills, helping them develop support systems and holding them accountable for their decisions.
He has also presented trainings nationwide and throughout Wisconsin on scattered site housing programs for homeless youth, working with youth with mental health issues and successful transitions for youth aging out of care.
Since his retirement in 2017 he has continued to co-chair the Emergency Services Network and chair the Sex Offender Registry board. He was also a board member for the Kenosha Housing Authority from 2012-2022.
From October 2021-July 2022 Byron was Interim Executive Director of Women and Children's Horizons (WCH) and still consults with the new Executive Director. He was also a WCH board member from 1987-2000.
Byron and his wife Nancie have lived in Columbus park for 34 years and are pleased to be a part of a diverse resilient neighborhood.